Change Agent Emery Ivery talks philanthropic impact in St. Pete, combating poverty, and long-term recovery from Hurricane Irma.
On this episode of SPx, host Ashley Ryneska welcomes local change agent Emery Ivery, Chief Impact Officer of United Way Suncoast to the show. Ivery talks the business of philanthropy, and the impact the United Way has made through thriving corporate partnerships with companies like Baycare, the Tampa Bay Rays, and Duke Energy. He shares the values that got him started as a psychiatric social worker, and what moved him to systemic justice work some 30 years ago. He discusses the United Way's multifaceted missions, and what they look like in our community, including the multi-resources neighborhood initiative in Campbell Park, the "walking school bus", and the 2-1-1 help-service.
Key Insights
Last year, Emery Ivery celebrated his 30th year with United Way, a career he started in Cleveland, Ohio.
Ivery's career was sparked from his passion for mentoring and working with kids. He became a psychiatric social worker and then joined United Way for its "macro-strategic" elements, tackling problems through funding, partnerships, and long-term solutions.
Ivery's beginnings as a social worker inform the practices by which he does his job at United Way, "We try to take a holistic approach around how do we engage parents better in their education, how do we work with families to relieve some of those stressors, and then how do we partner also with the school district to make sure that they have the community support that they need in order to make sure that kids are successful in school."
The United Way Suncoast is partnering with both Hillsborough County Schools and Pinellas County Schools, along with Alliance for Public Schools to ensure kids are ready for college – or careers – after they graduate. This includes efforts like building trade programs into public school, possibly as early as middle school.
Place-based initiatives: Campbell Park. These initiatives are about, "bringing resources together under one roof, partnering with the school district, really addressing the issue of making sure that kids and families have what they need to be financially stable, to be comfortable at home, which then helps that child become more ready to learn while they're in school."
Solving attendance issues with a "walking school bus": in partnership with the Rays, United Way has helped increase attendance and decrease tardiness through the implementation of a walking school bus.
This is one of many examples of the corporate partnerships that United Way has orchestrated to benefit the community. They're also engaged with companies like Duke Energy, Suncoast Credit Union and Baycare.
The United Way's services are not only for children, they also offer many adult programs, including: "two facilities that are connected through a walkway, we offer job training, we offer case management, we offer financial assistance. There's a computer lab where folks can come in and apply for benefits or do a job search. We have legal services, we do all kinds of training in-house, new partnership with Baycare where we will be offering on-site CNA training for individuals and families, and we provide through that training all kinds of supports."
"Our United Way Suncoast is a five county United Way, so we cover Hillsborough, Pinellas, Sarasota, Desoto and Manatee county. So, we have a regional board, and then we have area boards for Manatee, the Sarasota area and the Tampa Bay area."
What does the Chief Impact Officer do? "All of the work that we do through the resource centers, all the work that we do with regards to providing funding for agencies, all the strategies that we're involved in to help stop the cycle of generational poverty comes out of those area offices."
"Shortly after Irma hit, our CEO, Suzanne McCormick, along with Marlene Spalten from the Community Foundation, came together with the Pinellas Community Foundation, the Foundation for a Healthy St. Pete, Allegany Franciscan Ministries, United Way of Citrus and United Way of Pasco County – to create a Hurricane Irma fund."
Hurricane Irma left many families struggling with both short and long-term relief needs. Many of those working form paycheck to paycheck have found out they will not receive FEMA assistance or, if they didn't repair damages to their homes due to budget, are now facing even greater problems like mold. Local relief efforts, such as the United Way's Hurricane Fund are becoming increasingly important long-term.
Tampa Bay is facing another issue related to Hurricane Irma – the influx of struggling families from disaster-ridden Puerto Rico. "Now there are three flights every day, seven days a week from Puerto Rico, with an average of anywhere from 75 to 150 individuals."
Creating a generous workplace: "I think the fundamentals and the culture, I think, of giving really starts on the top, with the leadership in that organization."
In his free time, Ivery is an avid runner. Why? "First of all I wanna be and stay and healthy for a long time. But it's also a stress reliever as well. It also helps me start my day. And sometimes I meditate and think about my day and maybe problem-solve, other days I listen to music and other times I listen to audiobooks."
Ivery's shout-outs? Superintendents Eakins (Hillsborough) and Grego (Pinellas) – "I think we should be really proud of our leadership at the two school districts and the work that they are doing. They do an incredible job under some really sometimes tough circumstances."
"We're in business to serve clients, and we wanna make sure that every individual that comes through our door is treated with kindness and respect, and that we really do everything that we can to help them with their goals and to help them achieve a better life."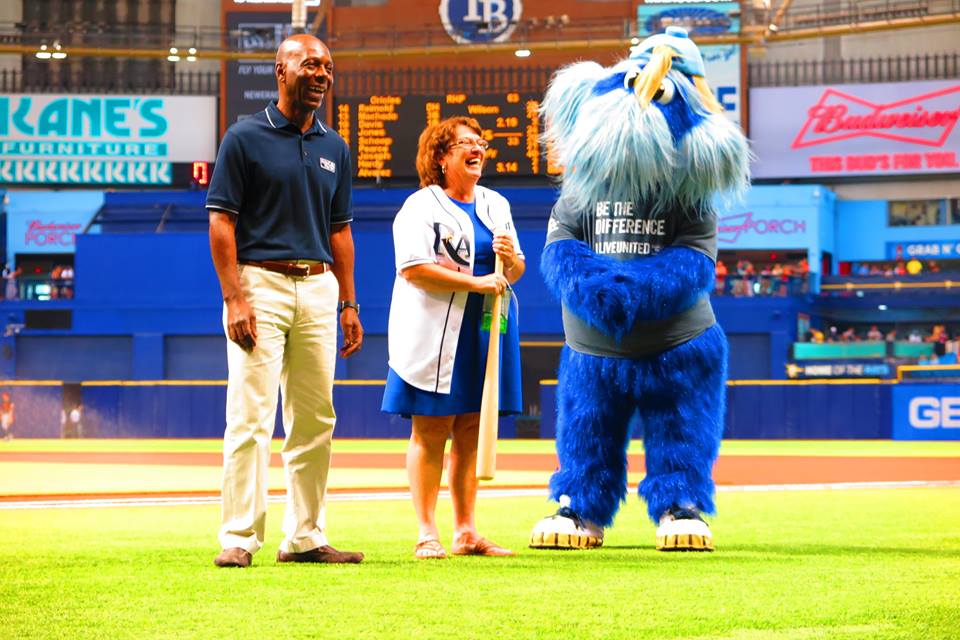 The United Way Suncoast is striving to make change in Tampa Bay, and throughout the West Central region of Florida. Each year, The United Way seeks to quantify its impact through the ALICE report. ALICE, a term introduced in our podcast with Beth Houghton of the St. Petersburg Free Clinic, stands for Asset Limited, Income Constrained Employed. This is a term for those who fall just above the poverty threshold, basically, the working poor. Alongn with those living in poverty, this is the target population of the United Way Suncoast's resources, and the target of their community initiatives. The 2017 ALICE report showed that 41% of the Suncoast region's households are barely making ends meet – meaning they are either living in poverty, or under the category of ALICE.
A particularly interesting section of the report seeks to address who these households are made up of, and they may not be the categories you would expect. While many of these families suffer from the effects of generational poverty and lack of opportunity/resources, many folks who fall in the ALICE category could live in your neighborhood.
"Despite improvements in our regional economy, ALICE continues to struggle as increasing costs for housing, transportation and childcare in some cases outpace growth in wages," said Suzanne McCormick, president and CEO of United Way Suncoast. "The ALICE population is vital to our regional economy. They are the recent college grad, health care professional, underemployed professional, and more. This report gives us insight to the needs of this population and underscores the importance of our mission to break the cycle of generational poverty."
As St. Petersburg continues to grapple with issues of equity and progress, it must weigh the economic consequences of building luxury condos, or building affordable housing for young professionals upon which the economy of the city so heavily relies.
"I think the fundamentals and the culture, I think, of giving really starts on the top, with the leadership in that organization."
Table of Contents

(0:00 – 1:28) Introduction
(1:28 – 3:17) A Life's Work and Mission
(3:17 – 7:21) Background for Youth Success
(7:21 – 11:44) Collaboration with School Districts
(11:44 – 16:25) Campbell Park
(16:25 – 20:46) Serving the Working Poor
(20:46 – 24:09) United Way Governance
(24:09 – 31:03) Post Hurricane Irma Recovery in Puerto Rico
(31:03 – 32:19) United Way Support
(32:19 – 33:28) What Makes a Generous Workplace
(33:28 – 35:50) Running
(35:50 – 36:57) Shout-outs
(36:57 – 37:38) Conclusion